"We can fight this war with needles": Meet the Polish student fighting for Ukrainian arts and culture
"Would you like to try some?"
A minute later, Magdalena Glowacka is handing over a paper bowl full of warm (and delicious) pierogi. Popular in the 43-year-old's native Poland, the dumplings are filled with potato, carrot and sauerkraut, topped with a smattering of fried onions and a dollop of sour cream.
"Sit down, have a break, watch us do things," she laughs. Then she hurries back to the cluster of women occupying the small kitchen at Baking Ideas, a community meeting space at Surbiton's Tolworth Station. It's a sunny Monday afternoon and they've been serving the food to the public, in exchange for cash donations, since midday.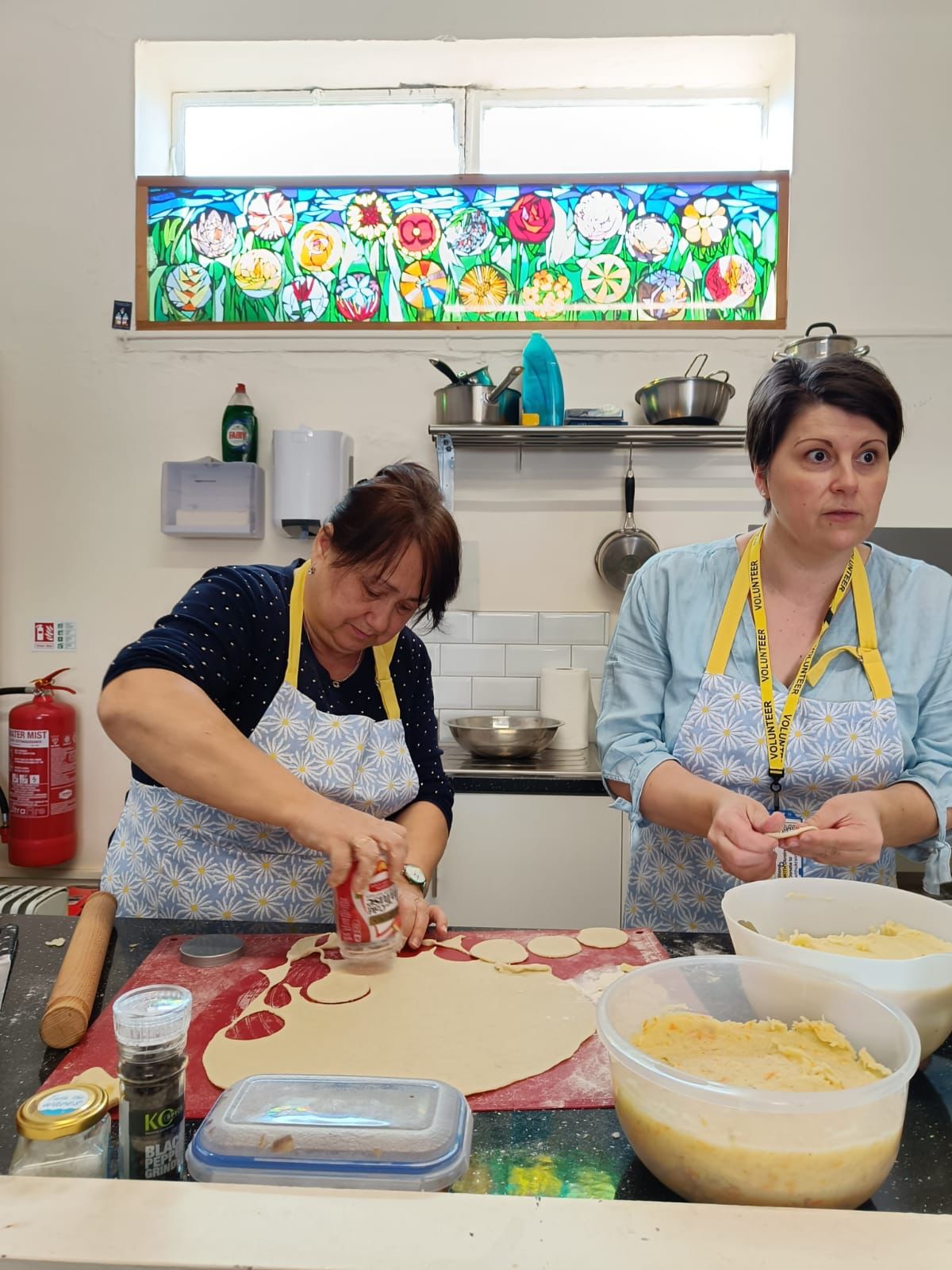 But these women didn't just come here to cook. They're all members of Ariadne's Thread, a Polish-Ukrainian community group founded by Glowacka. Pierogi is also a traditional dish in Ukraine and by making it here they're fighting to preserve the cultural heritage, and national identity, of a nation currently being ravaged by war.
Today, Glowacka can't stop for more than a brief chat: it's nearly 3 pm, and she has to pick up her two sons from school. Two days later, in a brightly lit Starbucks near her home in Worcester Park, Sutton, she has a bit more time on her hands.

"If I start talking, it will be endless," she says apologetically - forgetting that with a story like hers, that can only be a good thing.
It started, she explains, during conversations with a friend whose parents had travelled to Britain from Ukraine for the Christmas holidays. They were just about to return when news broke of the Russian invasion, leaving them stranded.
When the war began, Glowacka says, "I was glued to the TV. I couldn't stop watching it."
Poland and Ukraine share more than just food and a border. They're no strangers to Russian oppression, both spending much of the 20th century under the control of the Soviet Union. Small wonder, then, that Poland has taken in more than a million Ukrainian refugees.
The two nations haven't always been on the same side, and pro-Kremlin activists and politicians have tried to exploit any lingering ethnic tensions they can find.
But Glowacka was just focused on her friend and especially her friend's mother, who was now isolated in a foreign country. "This woman can't speak English, can't really be connected with anybody.
"And I thought, maybe I could just ask her for a coffee, meet up and talk to her a bit." At first, though, she wasn't sure what they could talk about.
Then, in February, Ukraine's Museum of Local History was destroyed in a fire, reportedly started by Russian forces. Among the fire's victims were 25 works by celebrated folk artist Maria Prymachenko. Something, Glowacka thought, needed to be done to protect the country's heritage. "And I realised, why can I not help?"
This was, after all, far from her first run-in with the world of arts and culture. Raised in Italy but never losing her "Polish spirit", Glowacka moved to the UK in 1999 to study. Now she's a part-time student at Kingston University, working towards her MA in Museum and Gallery Studies.
She's been working on an oral history project inspired by her eight-year-old eldest son, who is autistic and non-verbal. "I thought, is there a way of writing an oral history without words?" She began researching how stories are told through textiles, especially embroidery, which happens to be a staple of Ukrainian folk art.
"If you go to a Ukrainian house, everything is hand-embroidered," she claims. "It is a labour of love and passion and tradition."
She decided to ask her friend's mother for lessons, and they met in each other's homes. But with the details of the war being reported almost constantly, they couldn't escape the conflict.
Deciding that they needed a neutral space, Glowacka approached The Community Brain, a Kingston-based company that works with local people to deliver artistic and educational projects. By this point, she had decided that if they could give her a venue, it should be open to any Ukrainian and Polish women who wanted to come. With that, Ariadne's Thread was born.
The first meeting was scheduled for March 8, International Women's Day. "We had a wonderful time, we connected," she says, thoughtfully. "But funnily enough, we didn't talk about embroidery at all." She decided to sit back, listen, "and see, really, what would these ladies want to do?
"And the first thing that came up was cooking."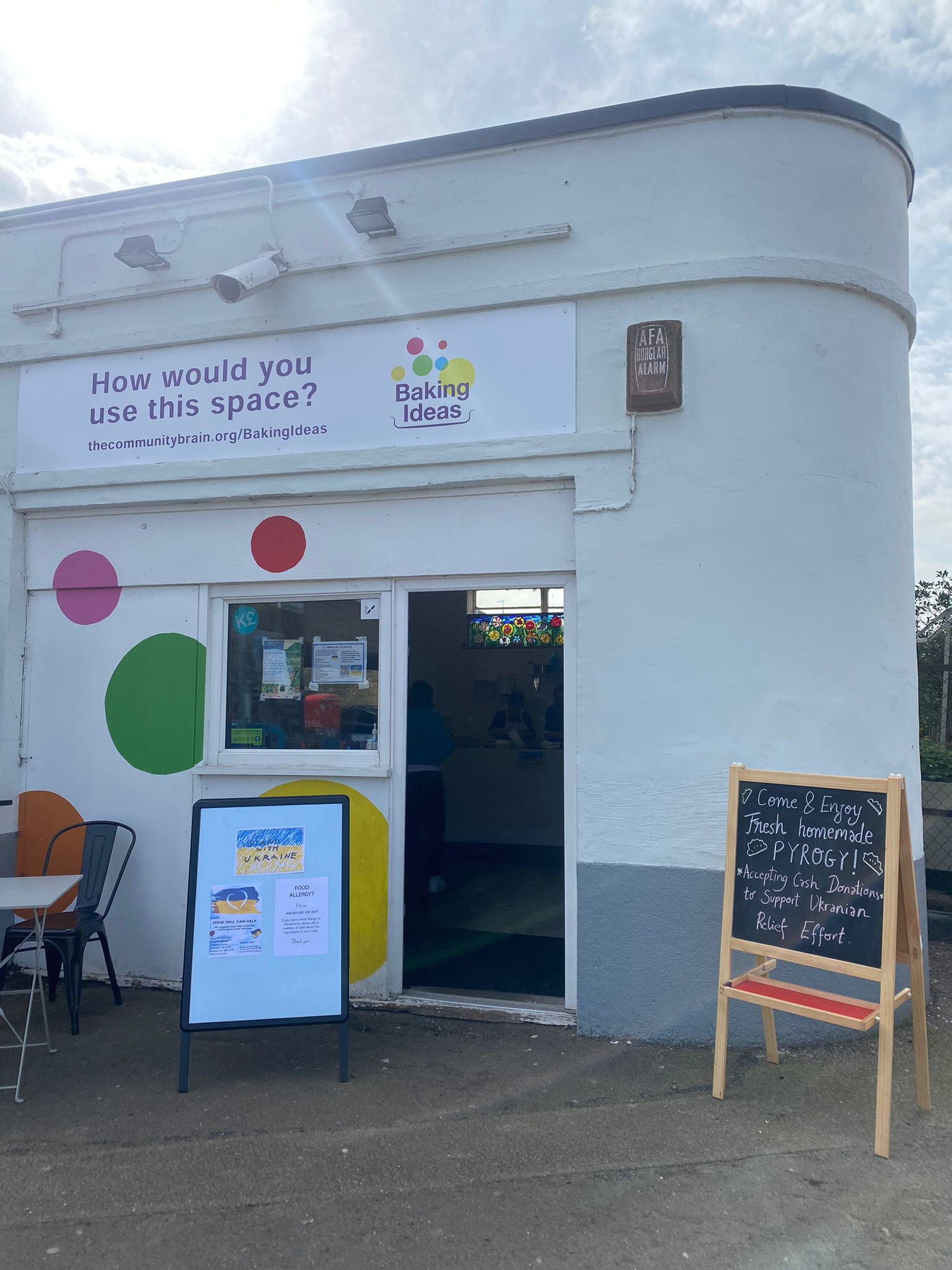 The original plan was to make the pierogi in private, to share amongst themselves. But then Glowacka visited Prosperity, a Ukrainian restaurant and café in Twickenham. Since the invasion it has transformed into a humanitarian aid centre, filling up with donated clothes, food, nappies and more. Volunteers are aiming to deliver the items to the Polish-Ukrainian border, where they will be distributed to survivors of the conflict.
For that, however, they needed money - for lorries to transport the donations, and petrol to keep them running. Glowacka's reaction, yet again, was to decide: "I'm going to help."
So it was decided that the event would be open to the public, "and whatever we collect, we give them for petrol." They raised £260.
The name Ariadne's Thread was inspired by Henry Eliot's Follow This Thread. One of Glowacka's favourite books, it explores the cultural history of mazes. When the conflict first began, she happened to be reading the tale of Ariadne: the princess whose magical thread guided Theseus through the labyrinth, and helped him defeat the Minotaur. "It was something about the bloodiness of that myth," she recalls, "and the giving of a thread to try and save somebody, and the woman doing it.
"We can fight this war with needles," she says as the coffee machine whirs on the other side of the café. "You don't always have to have guns."
And as Russia's invasion continues, with no signs of slowing down and leaving devastation in its wake, Glowacka is determined for Ariadne's Thread to be ready for whatever the future throws at it.
Already she has reached out to her contacts at the Polish Cultural Institute in London; they're discussing a large-scale project to create a tapestry. ("The idea is evolving," she cautions. "It's being finalised, it's not exactly there. When the time comes, we'll let you know.")
Most importantly, she is prepared for an influx of potential new members. On a nearby estate, she says, five residents have already signed up to host Ukrainian refugees. Her hope is that Worcester Park, along with any place in Kingston or Sutton where Ariadne's Thread meets, could become a new hub for both the Ukrainian and Polish communities.
"They had to leave everything behind in the home," she says, of these women she has never met, but hopes will be her neighbours soon.
"We can give them some of that home, here."